Dr. Patel is a wonderful doctor/surgeon. I called his office asking to see if they could help with a problem I was suffering from for years. I spoke with the receptionist and explained my problem and what I thought needed to be done. I asked her if this is something that Dr. Patel could do. She took my message down and said that she would call me back within a few days to let me know. She did better than that. She called me back with in a few hours she told me that she spoke with the doctor and he said that yes it is something that he could do but he wanted me to see a neurosurgeon first because they would need to work together. I called the neurosurgeon Dr. Willam Couldwell. I first saw one of his colleagues Dr. Ansari and then I saw Couldwell himself. They booked the surgery I needed to have which was to build a mesh barrier behind my left eye and to move the left side of my brain back so that it would release the pressure it was causing and the multiple headaches I would get. Because of the pressure my left eye was looking down and about 30 degrees off from my right eye. I had this surgery almost 6 months ago. I'm amazed at the results. I only saw double vision for a few weeks and it went away just like the doctors told me it would. My headaches are now gone and my eyeball has moved up to normal position. I've received many comments from friends and family about how good it looks. I would highly recommend Dr. Patel and Couldwell as well as any of their colleagues. They are truly wonderful doctors who care about you not only as a patient but as a person.
Melinda Janzen

About six weeks ago I had a lower face and neck lift surgery and I am overwhelmed with the beautiful results that Dr. Patel achieved. All I was expecting was a tighter jawline, soften lines from my nose to my mouth and a firmer looking neck. Not only did he achieve what I had requested, I also have the most beautiful healthy looking skin (smaller pores) and a glow to my skin than I can't ever remember having. I love looking at my profile and my beautiful neck. I look at my before and after pictures and I can't believe what a "skilled" surgeon can achieve. Dr. Patel asked me to trust him to do the procedures/treatments that would give me the best results and that's what I did. He used fat grafts to give volume to my brows (they look fuller) and also raised the bridge of my nose-the horizontal lines are much improved and the "fatness" of the nose bridge is gone. The staff, Dena, Stacie, and Amy were so supportive and helpful in aiding in my recovery from surgery. I'd text them with any questions or concerns I had and would always get a quick response back. It also took some coordination between offices as I had the surgery in Salt Lake, but all my follow up care was in St. George (where I live). Dr. Patel and his staff were so kind to accommodate this arrangements which I'm sure created more work for everyone. Thank you Dr. Patel, I now feel like I look as young on the outside as I feel on the inside. Sherrie four or five years now
Sherrie Larsen

Very impressed with the results. Everything from the beginning went smoothly. Dr. Patel is very professional yet still extremely friendly.
erick zappey

Dr. Patel is a great surgeon and I have felt taken care of throughout this surgery. My friends who know I had eyelid surgery say "Wow". And my other friends say "You look great" but don't know what's different.
Beverley Cooper

I hesitated doing revision surgery. I was fortunate to see Dr. Patel's patients and their results. They all looked natural and youthful. After a consultation he was very clear about what to expect. He spend time with me explaining what had gone wrong with my previous surgery and how he could address my concerns.. I am very happy with the results and would recommend him without hesitation.
William Burnham

Dr. Patel did a fabulous job on my Mohs closure. I had a small skin cancer on my bottom eye lid that the dermatologist removed leaving about 40% of my bottom eyelid missing. I feared I would end up with a distorted/misshapen eyelid and huge gap in bottom lashes. However, Dr. Patel was able to creatively borrow skin and lashes from the rest of my eye, leaving minimal scarring and unnoticeable gap in lashes. I am so grateful that he came so highly recommended to me and that I was able to get this procedure done by someone so capable and willing to try his best to get the most functional and best looking results for the patients. Dr. Patel was not concerned about getting this done fast, he was more worried about patient appearance and end results. You can barely see that I have had a procedure at all and I am only 2 months out. I foresee not being able to tell at all once healing is complete. Dr. Patel's office was also willing to schedule my after care appointments early in the morning, so I didn't have to miss work for the appointments. I had a great overall experience as Dr. Patel is a very confident, competent surgeon who is very good at his job and is a perfectionist at getting best results for his patients. Thanks so much for making me feel and look my best! You are amazing!
Jorgina Rowley (LRIS)

Other Independent Reviews
(HEAD OFFICE)
BCK Patel MD, FRCS
65 Mario Capecchi Drive, Salt Lake City, Utah, USA 84132
Phone: (801) 585 6641/6646
Email: dena.magallanes@hsc.utah.edu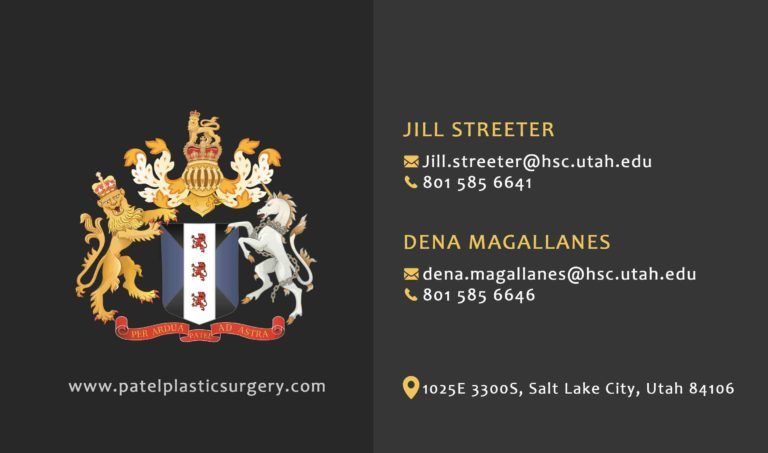 (HEAD OFFICE)
BCK Patel MD, FRCS
617 E Riverside Dr Suite 101
Saint George, UT 84790
Phone: (435) 215-0014
Email: drbckpatel@gmail.com
BCK Patel MD, FRCS
Insight Laser & Cataract Eye Specialists
2255 N 1700 W, Layton, UT 84041
Phone (801) 773-0690
Email: dena.magallanes@hsc.utah.edu
BCK Patel MD, FRCS
1025E 3300S, Suite B, Salt Lake City, Utah  84106 USA
Phone (801) 585-6641
Email: jill.streeter@hsc.utah.edu
Short on time? Simply send your enquiry here and we will get back to you with more information.
Site of the "English Surgeon". Dr. BCK Patel MD, FRCS, Salt Lake City, St. George, Layton, Orem, Mid-Town, London