PATIENT SUCCESS STORIES: IMAGINE.....
PATIENT SUCCESS STORIES: READ OUR PATIENTS' EXPERIENCES......
Dr Patel did a fantastic job with his facelift "revision" on my face. I had given up hope after a botched facelift 5 years ago left me with scars and stretch marks that no other doctor would even consider correcting. Not only did Dr Patel take me on, he worked MAGIC! Both my husband and I are forever grateful. I look like my natural self again and I am ready to put my nightmare behind me and look towards the future. Thank you, thank you, thank you Dr Patel!

Debbie Keller


It took over 3 years to diagnose my condition of blepharospasm, and it was a lonely frustrating journey along the way. I will not list the doctors that were unable to help me, as I hold nothing against them, they just didn't have the knowledge to diagnose or fix my problem. In March of 2015, I noticed a "distraction" with my eyes..excessive blinking and winking. I visited my primary care doctor. He thought my condition was dry eyes so he referred me to an optometrist. I had no relief so I visited another optometrist based on a recommendation of my friend. This doctor recommended heat compress, eye wipes, vitamin e, and eye drops. They were still heavy, difficult to keep open, and especially painful when driving. After that, I tried many doctors and many treatments for several years. Eventually, I found a Dr. Salinas in Las Vegas who concluded that I had blephoraspasm with apraxia, and it was very rare. He recommended me to Dr. Digre with John A Moran Eye Center in Salt Lake City. By the time I got to Dr Digre, my symptoms were bad. Often my eyes ache and it was painful to look up, to be in sunlight, to drive, and to focus on writing. I continued to have spasms in my cheeks right below my eyes (I only noticed when I was ready to go to sleep and am totally relaxed). Sometimes I would wake up because my eyes seem to be clenching shut, they ached and I would have to open them and make them "relax" when closing them again. Finally, in the last several months, I have noticed that my left eye doesn't respond as quickly as the right. I "tell" my eyes to open, one would open faster than the other. When I went to see Dr. Digre in April of 2018, I was desperate to find answers. I had tried everything the doctors prescribed. From drops to gel to warm socks over my eyes. From humidifier to flaxseed oil. Surgery to lift my brow. Tear duct plugs. The special process called Lipiflow. Botox Shots. My problem had deteriorated to the point that my eyes spasmed so often that it made it difficult to drive, run, hike, even work. Dr. Digre and her staff made me feel like the most important person in the world. They eventually referred me to Dr. Buphendra Patel (he works in Salt Lake City as well as St. George). His knowledge, his expertise, his caring, and most of all the botox treatment that he has given me (and will continue to provide every three months) has literally turned my life around. I had botox before but it was not the dosage or the position of the muscles that it needed to be. His technique, the amount of time he took to listen to me and understand the issue…it has changed my outlook on what life is for me. While it's not perfect, and I will never be exactly as I was before, I can now enjoy my life again. I can drive, I can work, I can hike on the weekends. I have my life back. I know this is a long story and I'm sorry if it repeats too much. I felt like I was the only on the planet with this condition. It was taking away everything I loved to do. And to discover that it was possible to have all that back because of a few amazing doctors that are caring, professional, and design their practice around truly learning what the issue is and providing some relief to that….well, that deserves to be shared, if for no other reason to recognize Dr. Digre and Dr. Patel and their staff for the amazing and awesome job they are doing. But if you are like me and suffer these same symptoms, please do not despair. You are not alone and there is help available!

Karen Basilotta


My experience with Dr. Patel and his team of esteemed colleagues at the University of Utah Medical Center, the Huntsman Cancer Center and the Moran Eye Center collaborated flawlessly to treat my very rare and serious cancer: sebaceous/meibomian gland carcinoma. Utah is extremely lucky to have immediate access to some of the world's best surgeons. I am grateful to those who worked so hard to bring these world-class facilities to our state; to those who continually recruit the caliber of medical professionals we enjoy and support staff members too numerous to name. I am forever indebted to Dr. Patel for orchestrating treatment swiftly and successfully and for the marvelous reconstruction he performed on my face. I have related my entire story on a post on Dr. Patel's Google Plus page if you would like to learn about the journey we took together.

Donna Brown


I have been very satisfied with the results of my Injections. Dr Patel has an eye for giving you the exact look you are going for. Highly recommend him!

Becca Russell


I hesitated doing revision surgery. I was fortunate to see Dr. Patel's patients and their results. They all looked natural and youthful. After a consultation he was very clear about what to expect. He spend time with me explaining what had gone wrong with my previous surgery and how he could address my concerns.. I am very happy with the results and would recommend him without hesitation.

William Burnham


Due to several eye surgeries, my right eye lid could barely open. The doctors felt it needed to stay that way to protect my cornea although I had very little eyesight in that eye. Fast forward several years: I had four severe falls with an 8 month period - all falls had been to my right side. The doctor decided it was in my best interest to have Dr. Patel raise that eyelid. He didn't promise a miracle, but he produced one!! Because of his expertise, the eyelid was raised to match the other one. The best part, however, is that because of the surgery, I am able to see more clearly on my right side and have not fallen at all. Dr. Patel is a Miracle Worker!

Maureen Miller


PATIENT SUCCESS STORIES: IMAGINE......
Look out for our series of "IMAGINE" results of our patients…..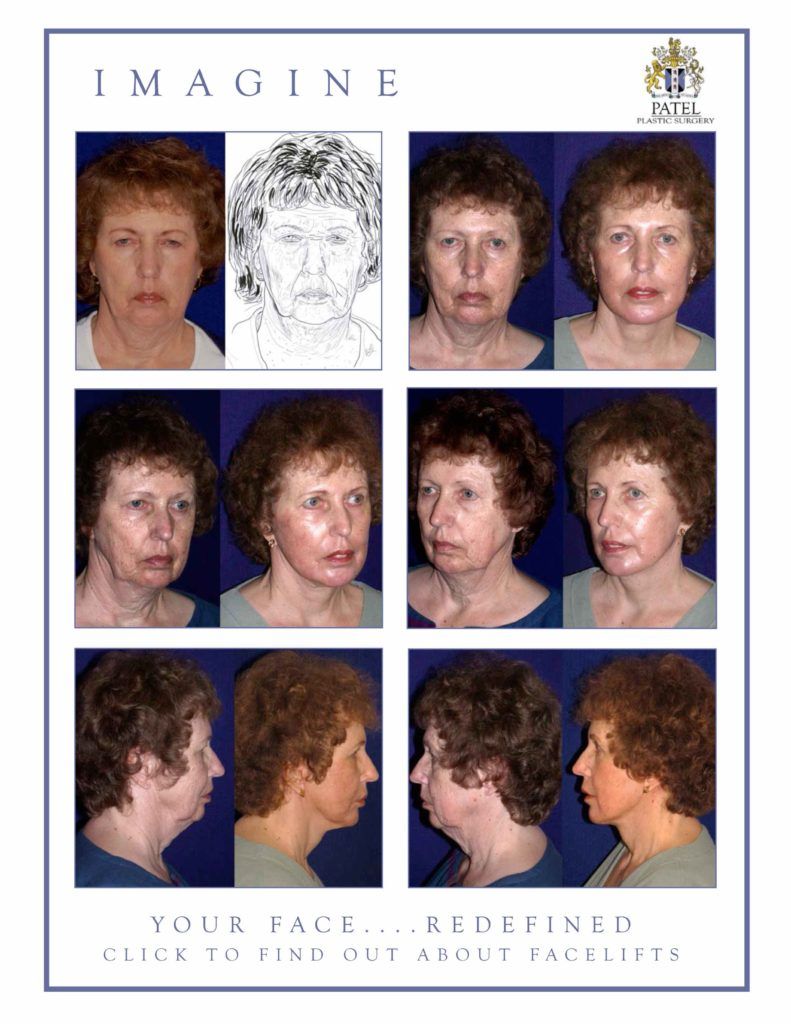 Short on time? Simply send your enquiry here and we will get back to you with more information.
Site of the "English Surgeon". Dr. BCK Patel MD, FRCS, Salt Lake City, St. George, Layton, Orem, Mid-Town, London